Counties include: Cheyenne, Kit Carson, Lincoln, Logan, Morgan, Phillips, Sedgwick, Washington, and Yuma
Please click on the links to open the portfolio reports that are available for this region.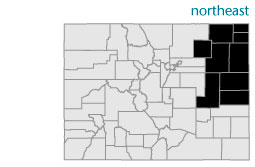 Disclaimer: Please note that most data contained in these reports is supplied by our customers, and may contain errors. For this reason, CHFA makes no claims as to the accuracy of the data. Information provided at the geographic area or county level should only be considered a partial indicator of conditions in the county. There may be micro markets with conditions different from the area or county as a whole. Reports are published quarterly.​