affordable housing and health partnerships
Introduction
The role of housing as a social determinant of health is well-established1. Individuals experiencing homelessness or unstable housing are often frequent users of emergency rooms, chronically miss doctor's appointments, or suffer physical or mental health impairments due to their living conditions. Housing organizations and health agencies across the country are partnering to deliver safe and affordable housing across the housing continuum, coordinate better service delivery, and facilitate hospital operations by addressing employee housing needs.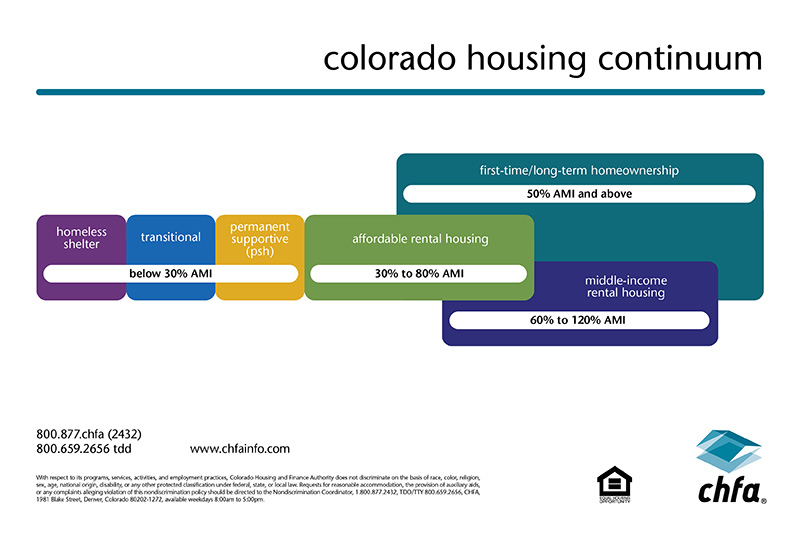 Housing Continuum
A housing continuum shows the range of housing options, from emergency shelters to homeownership. Each part of the housing continuum serves a unique need in the housing market. One size does not fit all, and ideally a community will have a range of housing options affordable for residents and its workforce.
Affordable housing and health
Housing for people experiencing homelessness or at risk of experiencing homelessness
Housing and health care are both essential to preventing and ending homelessness and one cannot provide an optimal outcome without the other. Health care services are more effective when a patient is stably housed and in turn, maintaining housing is more likely if proper health care services are delivered.2

Typical partnership roles, benefits, and outcomes of such collaborations that have been successful include the following.
Hospital participation:
Financial: contribute to Housing First programs to stabilize housing for at-risk individuals
Case management: provide case management/referrals to program and services; assess at-risk individuals at emergency department intake for referral to social worker/case management
Housing: financially support or donate land to build Permanent Supportive Housing units for the homeless population or respite care units
Housing partnership role:
State housing finance agency (HFA) may award Housing Tax Credits and/or provide loans to help finance developments
State may provide rental assistance through state housing voucher program and/or housing and services funding through Continuum of Care Permanent Supportive Housing
Benefits/Outcomes:
Achieve better overall health by providing case management for at-risk individuals
Expanded respite housing units and safe discharge for at-risk patients
Fewer homeless individuals in the care of hospitals
Reduce numbers of emergency department visits for homeless and at-risk individuals
Fewer re-admissions to the hospital and emergency department
Decreased length of hospital stays
Affordable rental housing
A general guideline for affordable rental housing is that a household should pay no more than 30 percent of their annual gross income on rent. Households paying more than 30 percent of their annual gross income on rent are considered housing cost-burdened. Households with low income that are also housing cost-burdened are particularly vulnerable to having insufficient income to pay for health care.

Building affordable rental housing not only benefits health care patients; it can also provide stable housing for hospital employees in proximity to work. Health care support workers, such as nursing assistants, orderlies, and paramedics generally earn less than 60 percent of the area median income, making it difficult to find affordable housing.
Hospital participation:
Financial: finance acquisition, construction, and/or rehabilitation of affordable mixed-income rental housing developments located in the service area of a hospital, targeting hospital customers and employees
Affordable housing developer/owner: Montefiore Health System created a community development corporation to renovate and stabilize apartment buildings.3 The Bon Secours Health System owns multiple apartment buildings in Baltimore servicing seniors, families, individuals and the disabled.4
Health care navigation support: fund health care navigators in affordable housing developments
Housing partnership role:
State housing finance agency (HFA) may award Housing Tax Credits and/or provide loans to help finance developments
Finance the acquisition, new construction, or preservation of affordable housing developments, including mixed-income developments
Benefits/outcomes:
Increase in primary care visits
Better access to healthy food
Improved mental health (decrease in depression and anxiety)
Additional employee housing for hospital employees, aiding recruitment and retention
Decrease in emergency department visits
Homeownership
In addition to needing rental housing, hospital employees may find homeownership unattainable because of rising home prices. First-time homebuyers may struggle with saving for a down payment. Examples of the roles and outcomes are included below.
Hospital participation:
Education: share information with employees about homeownership programs that offer down payment assistance
Financial: leverage CHFA's down payment assistance programs by offering employees additional financial assistance to increase the down payment or help cover closing costs
Housing partnership role:
Benefits/outcomes:
Homeownership for hospital employees, improving recruiting and retention
Patient navigation services
Since housing agencies generally serve households with low and moderate incomes, partnerships between housing agencies and patient navigators may be leveraged to serve this population. Patient navigators assist with coordinating the affordable housing resident with their health care.
Hospital participation:
Financial: help pay for patient navigation services
Access to data: partner with housing patient navigator to access appropriate data
Housing partnership role:
Connection between patient navigator and affordable housing resources
Outcomes:
Increased access to health care for vulnerable individuals and families
Fewer missed health care appointments
Reduced time from diagnosis to treatment
Improved communication between patient and health care team
Conclusion
Housing and health care partnerships leverage the strengths of each group to address housing needs for vulnerable populations and the health care workforce. This partnership may lead to better patient outcomes, increased housing stability, and lower costs for patient care.