New Markets Tax Credits (NMTCs) can be used to finance businesses located in, or moving to low income, underserved communities.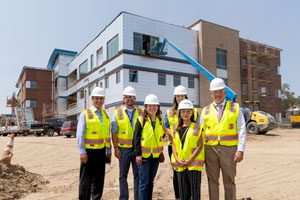 Pueblo Community Health Center, CHFA business lending customer
Pueblo Community Health Center (PCHC) is a nonprofit healthcare organization providing primary medical, dental, and behavioral health care for Pueblo residents. CHFA awarded $15 million in New Markets Tax Credits (NMTC) to support the construction of PCHC's new, 64,000 square-foot facility that will be built in Pueblo's Eastside neighborhood. This expansion will house PCHC's services and include a pharmacy and laboratory. It will also serve to catalyze the revitalization of Pueblo's Eastside neighborhood, which has faced economic decline and high vacancy rates.

Read the full story here.
Program Benefits
Lower interest rates and long terms
Favorable loan-to-value limits
Interest-only payments
Economic Development Through Partnership
CHFA, in partnership​ with the City of Denver, formed the Colorado Growth and Revitalization (CGR) Fund, LLC, a Community Development Entity.
The CGR Fund is committed to deploying its NMTC allocation in a manner that leverages the maximum amount of community impact in low income neighborhoods.
In accordance with federal law and U.S. Department of the Treasury policy, this institution is prohibited from discriminating on the basis of race, color, national origin, sex, age, or disability. To file a complaint of discrimination, write to Department of the Treasury, Office of Civil Rights and Diversity, 1500 Pennsylvania Ave. NW, Washington, D.C. 20220 or call 202.622.1160.​
Get Started
Contact Steve Boice for more information.