CHFA is on a mission. And that mission can only be achieved through the expertise, excellence, accountability, and dedication of our entire team.

That's why we provide all our employees with competitive compensation, comprehensive benefits, and professional development opportunities.​​​
Compensation
Enjoy competitive compensation packages from CHFA. We encourage and reward excellent performance in a few ways:
Base pay that targets the market's average pay for similar jobs
Performance-based rewards for exceptional performance
Health and Wellness Benefits
To promote a healthy work-life balance, we offer an excellent health and wellness package, which includes:
Medical, dental, and vision insurance for our employees and their families
Onsite gym and locker room, yoga and Zumba classes, and onsite bike storage
Health club reimbursement
Incentives for healthy living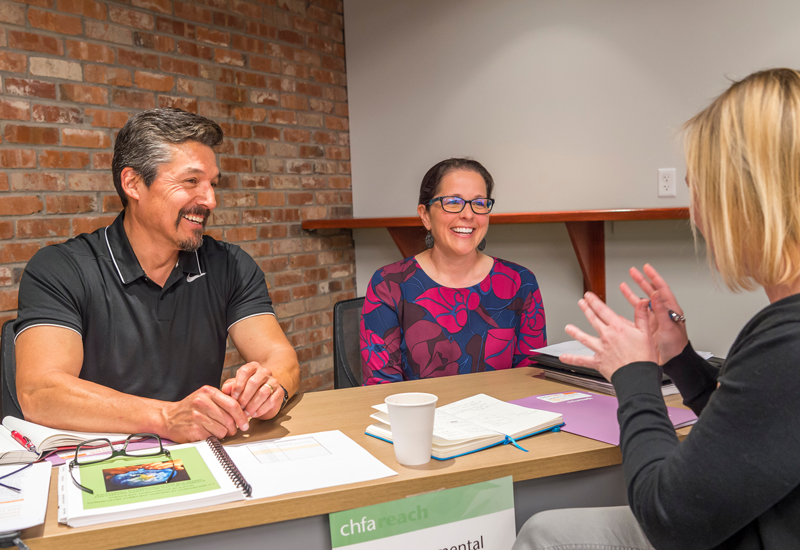 Supplemental Benefits
Plan for your future today. CHFA employees have several options to help them build their nest eggs, including:
CHFA is a covered participant in the Colorado Public Employees' Retirement Association (PERA). This pension plan serves as a substitute for Social Security. ​​
401(k) plan, with company match
Group life and accidental death & dismemberment insurance
Short and long term disability insurance
Voluntary supplemental life insurance​
Professional Development
​CHFA provides a challenging, progressive, and supportive environment that promotes employee development. A few of the ways we help our employees reach their full potential are:
Company-paid training
Professional development plans
Tuition assistance for certification, undergraduate, and graduate degree programs through an accredited institution
Supportive Programs
We support our employees and the community through the following benefits:
Paid volunteer day to support the local community
Public transportation reimbursement, to help our employees live a more ecofriendly lifestyle or a parking subsidy to those who must drive
Employee loans for down payment assistance, home repair, rental assistance, energy efficiencies, and hardships.
Sign up for CHFA Employment Opportunities eNews