January 5, 2023
Contact:
jerilynn martinez francis named chfa's chief communications and community partnerships officer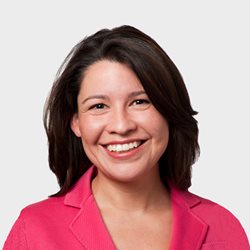 (DENVER) – Colorado Housing and Finance Authority (CHFA) is proud to announce the promotion of Jerilynn Martinez Francis as CHFA's new chief communications and community partnerships officer. In her role, Jerilynn will serve as a member of CHFA's executive team, reporting directly to the executive director and CEO. She will continue her leadership of the organization's communications, public policy, community relations, marketing, and corporate giving functions.
Jerilynn has more than 20 years of experience in housing policy, communications, and community relations. She joined CHFA in 2007 and has been a member of its leadership team since 2013. She is regarded as a leader in the housing policy space, with accomplishments including guiding CHFA's nationally recognized policy efforts to renew Colorado's state Affordable Housing Tax Credit program.
In 2020, Jerilynn added the strategic oversight of CHFA's corporate giving and regional community investment to her division. Under her leadership, CHFA expanded its statewide engagement via five community relationship managers (CRMs) who live and work in the regions they serve. She led CHFA's efforts to restructure its corporate giving platform to support mission-aligned nonprofits that advance affordable and equitable access to housing and affiliated needs such as childcare, health care, youth education and mentorship, energy assistance, and entrepreneurship. Jerilynn also supported the creation of new technical assistance offerings for small-scale and rural affordable housing development.
CHFA Executive Director and CEO, Cris White said, "CHFA's community engagement work has proven to be a catalyst for innovation and strengthened our community impact across the state. I've often said the work CHFA is doing through our CRM and corporate giving initiatives is transformational and changing our DNA for the better. I am committed to continuing this momentum and therefore have chosen to elevate this role to the executive team. I am confident in Jerilynn's leadership abilities to continue to guide these efforts and am proud of the work she has helped CHFA accomplish to date."
Jerilynn is a fourth-generation Colorado native. Prior to her work with CHFA, she was the vice president of public affairs for the Home Builders Association of Metro Denver. She received her bachelor's degree from Colorado State University and master's degree from the University of Denver. She resides in Watkins with her husband, two dogs, and beloved chickens.