May 1, 2023
Contact:
rep. shannon bird appointed to chfa's board of directors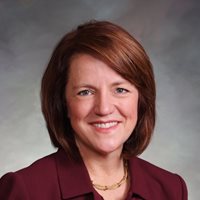 (DENVER) - Colorado Housing and Finance Authority (CHFA) congratulates State Representative Shannon Bird on her appointment to its board of directors. CHFA's board serves as its governing body, and is tasked with supporting CHFA's mission to strengthen Colorado by investing in affordable housing and community development. The board is comprised of 11 members including the State Auditor, a member of the Governor's cabinet, eight governor-appointed members confirmed by the State Senate, and one member of Colorado's General Assembly.
Representative Bird, an attorney, serves constituents in Colorado's House District 29 in Adams and Jefferson Counties. Throughout her time at the Capitol, she has championed impactful housing policy. This includes her prime sponsorship of HB22-1051, a bipartisan bill signed into law last year that strengthens and extends the state's Affordable Housing Tax Credit program. Representative Bird served as Chair of the House Finance Committee from 2021 to 2022, and currently serves as Vice Chair of the state's Joint Budget Committee.
Before establishing roots in Colorado, Bird was raised by a single mother and grandmother in Reno, Nevada. Bird credits her upbringing for fostering a deep passion for service to her community. She became the first in her family to graduate from college, earning a Bachelor of Arts (BA) in Economics, a Master of Science (MS) in Finance, and a Master of Business Administration (MBA) from the University of Colorado. She went on to receive a Doctor of Law (JD) degree from the University of Denver's Strum College of Law.
Leading up to her election to the General Assembly in 2018, Bird already had an impressive record of public service. A regular volunteer in her children's classrooms, she became citizen chair of a 2014 bond campaign for Adams 12 schools. She went on to become a cofounder of the Adams 12 Community Action Network and served as board chair of the Five Star Education Foundation, a nonprofit partner to Adams 12 Five Star Schools. She also served on the Westminster City Council from 2015 to 2019. Bird currently lives in Westminster with her husband, David, and their two children, Elizabeth and James.