June 21, 2022
Contact:
new quarterly colorado apartment survey results published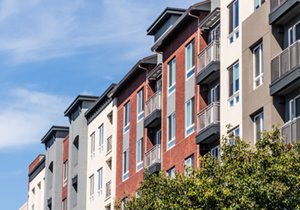 (DENVER)
– Colorado Housing and Finance Authority (CHFA) is proud to offer the results of the newest Colorado Statewide Apartment Survey. This quarterly report summarizes the quarterly rents and vacancies of market-rate multifamily rental properties in various Colorado markets.
This information is available to help understand Colorado's rental housing market. The report is researched and authored by Erin Shumaker and Scott Rathbun of 1876 Analytics, LLC, an affiliate of Apartment Appraisers & Consultants, Inc., and is sponsored by CHFA.
The current survey for the first quarter of 2022 is comprised of data on 62,883 units, of which 90.7 percent are located in Front Range markets, 5.1 percent are located in mountain/resort area markets, and 4.1 percent are located in non-metro area markets. The seven-county Denver metro area is not covered by this survey.
Highlights from the first quarter survey 2022 include:
The statewide vacancy rate was 4.8 percent, largely driven by Front Range markets, while the lowest vacancy was in mountain/resort areas, with vacancy ranging from zero in Summit County to 2.6 percent in both Durango and Steamboat Springs/Hayden.
The statewide median rent was $1,450 per month, with the lowest in Craig at $695 per month, and the highest in Eagle County at $2,200 per month.
Due to strong market fundamentals, combined with quickly rising single‐family home prices throughout the state, apartment permits and renter ratios are expected to increase in most areas throughout the state during 2022 and into the future.
To access the report, click here. Reports will be published every quarter, available at chfainfo.com/about-chfa/resource-library under, Colorado Statewide Apartment Survey.