July 20, 2023
Contact:
golfers raise $85,000 for home builders foundation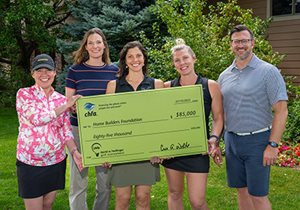 (DENVER)
– Colorado Housing and Finance Authority's (CHFA) annual David W. Herlinger Golf Tournament raised $85,000 for Home Builders Foundation on Wednesday, July 19, 2023. Home Builders Foundation (HBF) is a nonprofit organization based in Englewood whose mission is to build independence, provide opportunities, and elevate lives for individuals and families with disabilities. Each year, HBF gathers builders, contractors, remodelers, tradespeople, and volunteers for its annual Blitz Build to complete home modification projects across greater Denver.
"CHFA began volunteering with HBF's Blitz Build eight years ago, and we are so grateful for the many ramps they have built throughout the Denver metro area," said Beth Forbes, Home Builders Foundation Executive Director. "HBF is also tremendously thankful for being chosen as the beneficiary of CHFA's 2023 David W. Herlinger Golf Tournament which marks an accumulation of the many years of synergy between our organizations. We are excited to be a part of the day and truly humbled to receive this recognition."
For 30 years, Home Builders Foundation has enabled individuals with disabilities and their families to live more independent, elevated lives. HBF has completed home modifications including ramps, room alterations, bathrooms, and much more for over 2000 individuals and their families, and the number of requests continues to grow. HBF expects to complete 240 projects for 120 individuals in 2023.
"The work of Home Builders Foundation aligns with CHFA's vision that everyone in Colorado will have the opportunity for housing stability and economic prosperity," said Cris White, CHFA Executive Director and CEO." Home Builders Foundation is serving a critical need as they ensure that those with disabilities have access to modifications that allow them to continue to live safely and comfortably in their homes. CHFA is proud to support Home Builders Foundation in their ongoing impact on the community."
CHFA's annual golf tournament
raises proceeds to benefit a local nonprofit whose work coincides with CHFA's mission of affordable housing and community development. The 2023 tournament was held at The Fossil Trace Golf Course in Golden, Colorado. The event is named in memory of CHFA's former Executive Director, David W. Herlinger, who passed away in 2012. It serves as a reminder of his passion for the game of golf, and for helping local nonprofit organizations whose work supports affordable housing in Colorado.
Thank you to the 2023 tournament sponsors:
Eagle sponsors:
Barclays, First Bank, Jefferies, RBC Capital Markets, Wells Fargo

Birdie sponsors: Bank of America, Janeway Law Firm, Sherman & Howard

Par sponsors: Alliance Construction Solutions, CSG Advisors, Kutak Rock, Milender White, Morgan Stanley, Stifel

Hole sponsors:
The Argyle, Artaic Group, Brean Capital, Computershare Corporate Trust, Elevations Credit Union, Evercrest Advisors, HDS Companies, Lument, OneTouchPoint, Pinkard Construction, Sherman Associates, St. Charles Town Company, UMB Bank, US Housing Consultants, Zion's Bank

Mulligan ticket sponsor: Palace Construction

Leaderboard sponsor: Wells Fargo

Photography sponsor: Loveland Housing Authority
Past beneficiaries of CHFA's golf tournament include:
2022: Rocky Mountain MicroFinance Institute (RMMFI);
2021: Second Chance Center;
2020 (virtual): Mt. Carmel Veterans Service Center;
2019: The Empowerment Program;
2018: Arrupe Jesuit High School;
2017: Saint Francis Center;
2016: Volunteers of America Colorado Branch;
2015: Mercy Housing Colorado;
2014: Habitat for Humanity of Colorado;
2013: Habitat for Humanity of Metro Denver;
2012: HomeAid Colorado;
2011: Rebuilding Together Metro Denver and Rebuilding Together Colorado Springs;
2010: The Gathering Place;
2009: Porter-Billups Leadership Academy;
2008: Warren Village;
2007: Urban Peak and Energy Outreach Colorado;
2006: Senior Housing Options;
2005: Food Bank of the Rockies; and
2004: Colorado Coalition for the Homeless.