November 14, 2023
chfa congratulates steve johnson on cdfa lifetime achievement award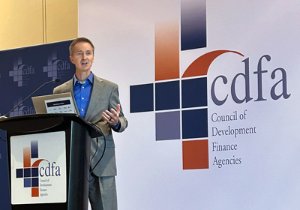 CHFA congratulates Steve Johnson, Director of Community Development, on his receipt of the 2023 Council of Development Finance Agencies (CDFA) Lifetime Achievement Award. The award was announced on November 9, 2023 at the annual CDFA conference in Philadelphia, and it is given in recognition of those who have made outstanding contributions to the development finance industry throughout their professional careers.
CDFA is a national development finance association comprised of members from public, private, and nonprofit entities. It provides education, advocacy, resources, and networking opportunities for development finance professionals across the nation.
"The CDFA team is happy to honor Steve at this year's CDFA National Development Finance Summit," said Toby Rittner, CDFA's President and CEO in a media release. "He has made a lasting impact on the industry and serves his community with resilience." Steve has been with CHFA since 1996, and currently oversees CHFA's Community Development team. This team is responsible for executing CHFA's investment in business finance and multifamily lending, as well as the allocation of state and federal Housing Tax Credits.
A media release from CDFA announcing the award is available here.