December 13, 2021
Contact:
​like it forward: chfa donates $18,035 to the family and intercultural resource center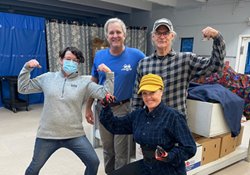 (Silverthorne, Colo.) - Colorado Housing and Finance Authority (CHFA) is donating $18,035 to the Family and Intercultural Resource Center (FIRC), a nonprofit organization that serves Summit County families by providing education and financial resources. FIRC is a community leader in cultural integration, resource and referral services, emergency services, family support, and early childhood development.
The donation was the result of Like It Forward, CHFA's annual social media campaign to benefit Colorado nonprofits whose work aligns with CHFA's mission to invest in affordable housing and community development. Over the course of two weeks, CHFA invited the public to visit CHFA's social media channels to like and share posts featuring information about FIRC. For each like and share the posts received, CHFA donated $5 to FIRC.
The $18,035 donation will help FIRC meet its mission and provide services that have grown in demand since the onset of the pandemic. For example, from March 2020 to March 2021, FIRC distributed $2.67 million in rental relief to more than 2,200 households. Additionally, demand for FIRC's Food Pantry increased 114 percent after COVID-19, and FIRC provided 425,000 pounds of food in 2020.
"At FIRC, we know that CHFA is a valued partner for many agencies across the state and we are so grateful that we were selected for this unique social media campaign. It's not often that everyone can participate in a fundraiser, and this was such an interactive, fun, and free opportunity for our supporters to give back with just a simple click. The money raised will go directly to supporting FIRC's mission to strengthen families in our community," said Brianne Snow, FIRC's executive director.
In Summit County, the self-sufficiency standard for a family of three in 2018 was a household income of $73,500*. The average annual income for a FIRC-client family of three was $29,400 in 2020, which is one example of the need for FIRC's local services and programs.
"FIRC is truly a pillar of Summit County and CHFA is humbled by the work they do to support so many, especially during challenging times. It was our honor to help Colorado learn more about this incredible nonprofit and support them with CHFA's 2021 Like It Forward donation," said Cris White, CHFA's executive director and CEO.
Like It Forward 2021 marks CHFA's seventh annual social media giving campaign of its kind. The campaign was promoted from November 29 through December 10 on Facebook, Twitter, Instagram, CHFA's website, and in various CHFA communications.
*Source: Colorado Center on Law and Policy, Self-Sufficiency Standard 2018

Pictured: FIRC Community Food Market, courtesy of FIRC