chfa travels the state to listen to communities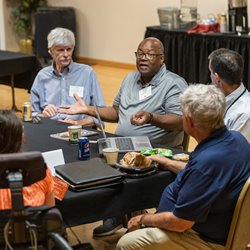 CHFA staff traveled the state throughout August 2021 to listen to partners and community stakeholders. The cornerstone of these visits were the Statewide Outreach and Engagement meetings hosted by Housing Colorado, Colorado Division of Housing, and CHFA. In-person events were held in Grand Junction, Durango, and Pueblo, and the series concluded with a virtual event focusing on Front Range communities.
Attendees included housing authorities, nonprofits, government entities, economic development organizations, and other community stakeholders. Needs discussed included infrastructure, "main street" revitalization, and many affordable housing matters such as inventory shortages, hotel/motel conversions, short-term rentals, and technical assistance for development.
To help address some of the challenges listed above, CHFA has developed several programs, which include:
Middle Income Access Program: this program supports the development of multifamily rental housing to serve residents with middle income, typically those with incomes of 80 to 120 percent of the Area Median Income (AMI). This program helps renters who can't income-qualify for affordable housing but are overburdened by market rents.
Small-scale Housing Innovation Project (SHIP): SHIP addresses smaller housing development projects (fewer than 30 units). It offers Technical Assistance Grants to provide capacity and resources to aid an organization in navigating the development processes.
Mobile Home Purchase and Preserve pilot program: This program is being piloted the Durango region.
As part of continued outreach efforts, CHFA has assigned Community Relationship Managers to service regions across the state. CHFA's CRMs live in their service regions and work to identify and understand community needs related to housing, economic development, and nonprofit capacity.