like it forward
Like It Forward is CHFA's annual social media campaign to benefit Colorado nonprofits whose work aligns with CHFA's mission to invest in affordable housing and community development. 
About "Like it Forward"
The 2021 Like It Forward campaign benefitted The Family and Intercultural Resource Center (FIRC), a 501(c)3 nonprofit that serves Summit County families by providing education and financial resources. FIRC was founded in 1993 and has grown to be a community leader in cultural integration, resource and referral services, emergency services, family support, and early childhood development.
The need for FIRC's services became even greater due to the pandemic. From March 2020 to March 2021, FIRC distributed $2.67 million in rental relief to more than 2,200 households. Additionally, demand for FIRC's Food Pantry increased 114 percent after COVID-19 and FIRC provided 425,000 pounds of food in 2020.
To learn more about FIRC, please visit summitfirc.org
Sign up for Community Connections eNews
Denver - Main Office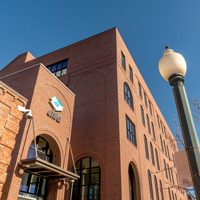 1981 Blake Street
Denver, CO 80202
direct
tdd
Contact Us