An example of a CHFA Multifamily Lending Preservation Rehab/Adaptive Reuse project.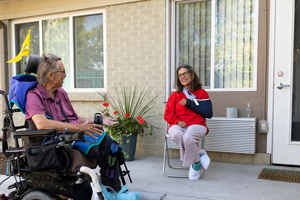 Eiber Village at Garrison Station
CHFA Customer
Lakewood, Colorado
Eiber Village at Garrison Station, Lakewood
Purpose
Acquisition/Adaptive reuse of the prior Hospice of Saint John, which was designated a Local Historic Site by the City of Lakewood in 2018
Who the Project Serves
Seniors 55+, with 50 units serving households at 30 percent AMI and 60 percent AMI
Community Impact
This property was revitalized after sitting vacant and considered blighted since 2014. The site is adjacent to RTD's West light rail line with connection at Garrison Station, offering easy transportation access amid local resources.
Project Partners
Hartman Ely Investments
Giving Tree Communities
Metro West Housing Solutions
How We Got the Deal Done
Pair with These CHFA Programs
CAPABLE loans can also be paired with the Capital Magnet Fund (CMF) as subordinate debt, as long as the debt coverage and other underwriting terms conform to CHFA Credit Policy. HOF may be paired with any of CHFA's senior debt programs.
Contact Multifamily Lending